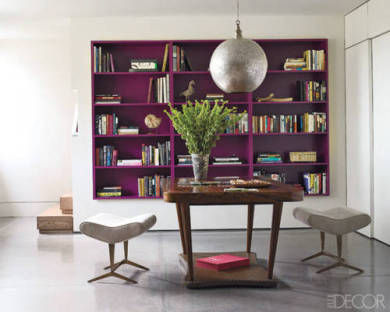 Books are awfully decorative, don't you think? – Gloria Upson from Auntie Mame, by Patrick Dennis
I absolutely love books!  When I was a child, my mom would take me with her to bookstores and libraries all the time.  I grew up surrounded by tall trees of majestic bookshelves full of captivating stories.  As an adult, my personal library has developed into its own forest of thrilling tales.  In feng shui, book storage is a major topic.  How and where should we put our books?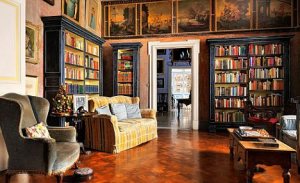 Here are some helpful feng shui hints for storing one's beloved volumes: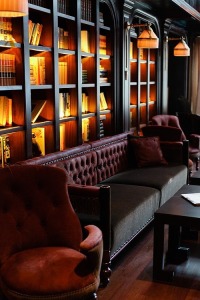 Location!  Location!  Location!  Directionally, the best place to put a bookcase in a room is in the Northeast corner.  This is the area known for higher learning, wisdom and spiritual growth.  However, this is dependent on the room's architecture.  This is not the best storage location for books if, say, there is a door or window in the way.  Use your best judgement.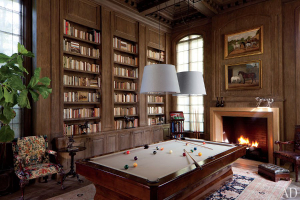 Ideal Rooms for Books.  The quick answer to this would be living rooms, libraries, offices, sitting rooms, and the like.  One is more apt to pick a selection and read in these yang-infused areas.  Also, if company comes by, they can glance at the collection and further get to know the occupants by their choice of reading material.  (My own collection is mostly horror and science fiction.)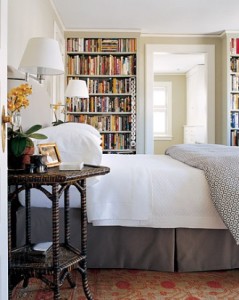 Books in the Bedroom.  Some feng shui consultants and practitioners feels that books should not be in the bedroom, due to the creative energy that goes into writing a book can disturb the occupant's rest. 

I don't agree with this.

  First, it's not practical.  In smaller environments where space is limited (like apartments), sometimes books have to go in the bedroom.  If this is the case, keep the bookshelves away from the bed by at least a couple of feet.   Now, if one has plenty of space, then yes, books should be moved out of the bedroom and into another area.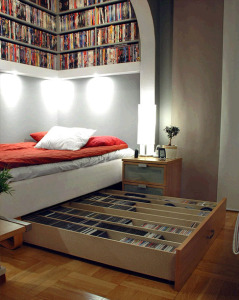 Never Store Books Under the Bed! 

Under no circumstances

should one put books under their bed.  This will result in various sleep problems, romantic issues, and poor health.   Books should not be directly above a bed, either.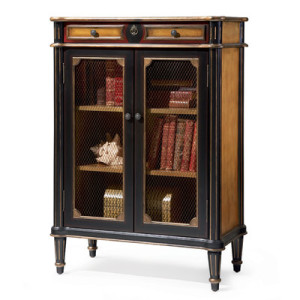 Open or Closed?   Both can work.  Open bookcases are more common, and easier to acquire.  This also allows the items to be on display at all times.  However, bookcases with doors let the items symbolically disappear from the room.  The door varieties help to keep dust off the books.  Remember, dust is clutter, and clutter attracts negative energy.  Dust your books on a regular basis.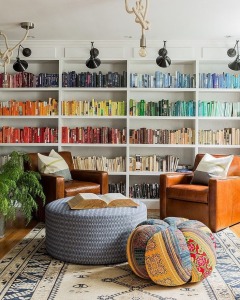 How Should I Arrange Them?   This is different for everyone.  Most arrange by subject, and then by author.  Some do it alphabetically, or in sequence, while others mix it up a little.  One new trend favored by designers is to arrange books by color in a rainbow.  (While I love how this looks, this would drive me crazy.  I prefer my books to stay together by author.)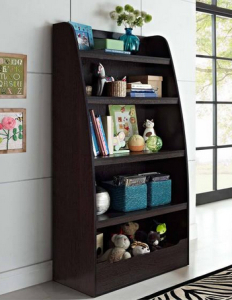 The Price.  Like other pieces of furniture, many bookcases and shelving are grossly overpriced.  I would suggest looking at Ikea, Overstock, Staples, and office supply carriers for good shelving.  Thrift stores and Craigslist also offer great selections.  Or, if you are crafty, try building one on your own.  But most importantly, get something you like within your budget.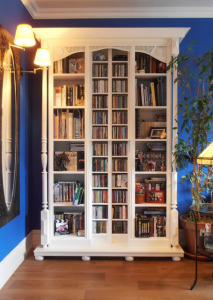 Wherever one chooses to store their library, I suggest that each volume be kept in an area where they are readily available.  One never knows when the urge to read might strike.  On that note, I"m going to get lost amidst a literary  landscape this evening.  I'm thinking the suspenseful English Countryside, circa 1985…